Quando venticinque anni fa ho acquistato Le Mas de la Rose, avevo il desiderio di creare un luogo speciale per me e la mia famiglia nel cuore della Provenza; volevo una casa confortevole e di charme che riunisse tutti insieme nei giorni di vacanza, un luogo del cuore dove dedicarsi alla cucina, rilassarsi in giardino all'ombra dei platani, e ricaricare le energie.
When I bought the Mas de La Rose in the 1989, I felt my wish come true: a very special place in Provence for my family and myself, a very comfortable house, with great charme, where we could all be together for the holidays , a place of the heart where to rest, to cook special meals, to relax under the shade of the plane trees and recharge our energies.
Il restauro della casa e del giardino è stato un'avventura bella e impegnativa, una sfida per il mio lavoro di decoratrice d'interni, ma posso dire che oggi la mia casa è un luogo ricco di atmosfera. Ogni ambiente ha una sua personalità frutto di una lunga ricerca di tessuti e arredi con l'idea che ogni oggetto doveva essere speciale e raccontare una storia. La vita al Mas de la Rose si svolge tra la case e il giardino e non ci sono confini tra interno ed esterno anche nella scelta dei colori ispirati alla tradizione e alla natura della Provenza resa celebre nei dipinti degli Impressionisti.
Restoring the house and the garden has been an exciting and demanding adventure, a real challenge for my job as an interior designer. I can proudly say that the result after so many years of commitment, is rewarding: the house has now great charme and atmosphere. Every room has its own personality achieved through a long research both of antiques and textiles. Every object had to tell its story, and the result becomes my own story. Life at Mas de la Rose is between the house and the garden. There are no borders, and colours I used for the two of them are similar. The inspiration came from the Provencal tradition and from the Impressionist painters.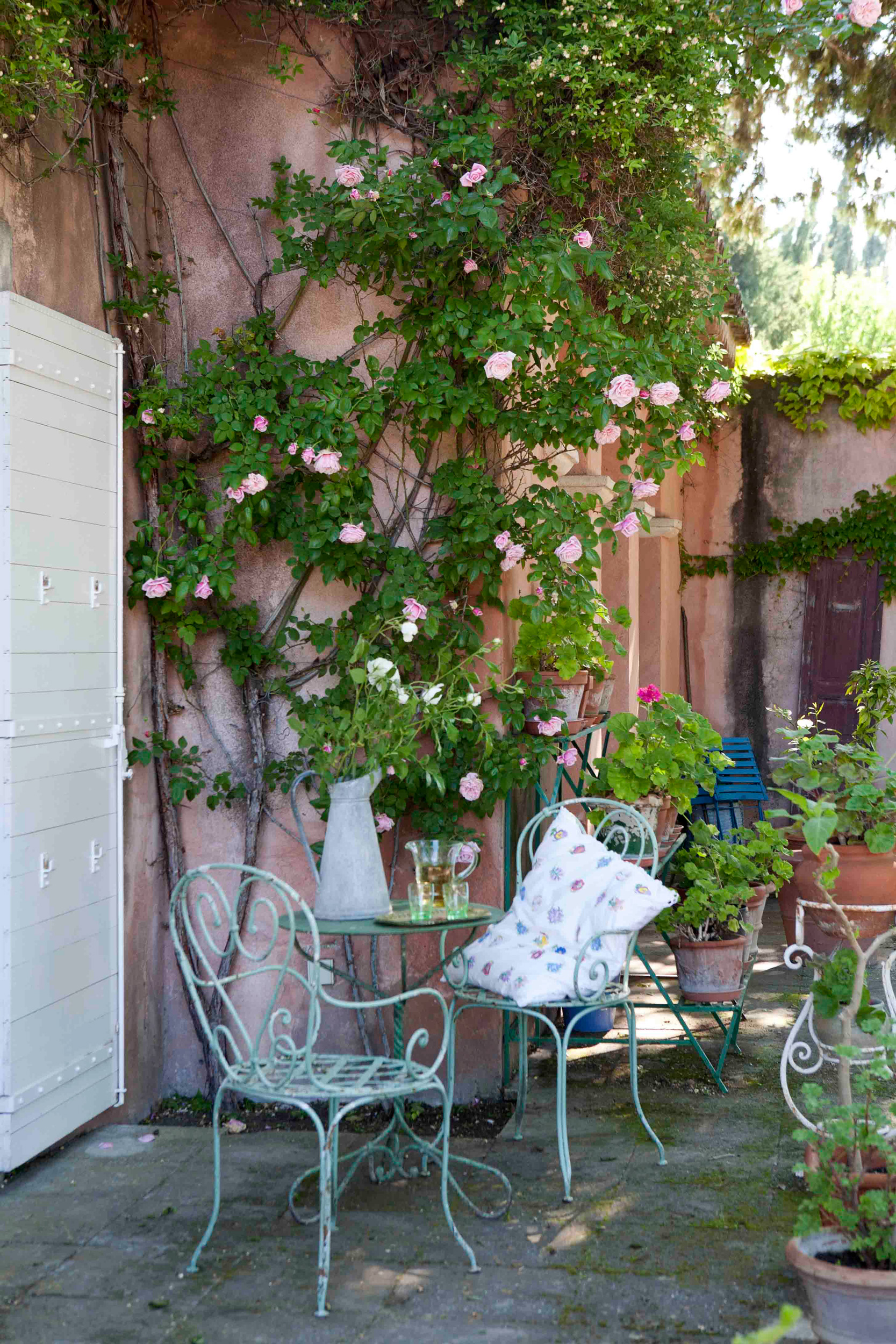 Oggi ho deciso di aprire la mia casa a tutti coloro che vorranno condividere l'esperienza della vita in Provenza insieme a me dando vita al progetto #MYLIFEINPROVENCE : un workshop di tre giorni per immergersi totalmente nella vita provenzale, esplorare i mercati dell'antiquariato della regione e dare forma ad un progetto di decorazione di interni.
Now I have decided to open the house to few special people who would like to share my experience of life in Provence. This is how the project of #MYLIFEINPROVENCE was born as a three days workshop: to experience the true Provencal life, to learn more about interior decoration, to explore the antiques markets and to visit the best dealers.
se ti piace alzarti presto la mattina e ami la brocante,
se sei appassionato della decorazione di interni e vuoi imparare qualcosa in più
se ami la cucina italiana con un twist francese
Questa è la tua occasione! Partecipa a #MYLIFEINPROVENCE 2020 a Le Thor – Avignone il prossimo Giugno tutte le info qui

Per  iscrizioni  scrivete a solamentegiovedi@gmail.com  / instagram @enricastabile
If you are ready to get up early in the morning, and love flea markets
If you wish to learn or know more about interior decoration
If you love Italian cooking with a French twist
This is your chance! Come and join us for  #mylifeinprovence experience June 2020  info click here

info and details at solamentegiovedi@gmail.com / instagram  @enricastabile