Ho cominciato il mio percorso professionale nella moda dando vita al marchio E & E, insieme a mia sorella Elisabetta. Disegnavamo abiti e accessori ispirati all'epoca vittoriana e al mondo proustiano delle
Jeunes Filles en Fleur
. Alla fine degli anni '80, la moda virava verso un look giapponese scarno e rigoroso, lontano dal nostro stile, e la nostra intuizione fu quella di aprire uno spazio dedicato alla decorazione di interni: nasce così
L'Utile e il Dilettevole
in Via della Spiga, all'interno del cortile di una bella casa neoclassica. L'atmosfera è quella della campagna inglese e francese dove si mescolano, in maniera inedita per l'epoca, mobili, oggetti, tessuti e arredi da giardino preannunciando l'attuale moda del
Vintage
.
The fashion world was the starting point of my career. My sister and I created and designed E&E, a line of clothes with a strong Victorian feeling , reminiscent of Proust "Les jeunes filles en fleurs". After a some successful years, Japanese minimalistic style replaced a our vintage inspiration, so we decided to abandon apparel for other passion: interior decoration. We opened L'Utile e il Dilettevole a space totally given to home furnishings, situated in Via della Spiga, in an elegant courtyard of a neo classical house.
Il look è rigorosamente vissuto, consumato, patinato dal tempo. L'idea è nuova e ha successo, allora ho sentito l'esigenza di una avere una preparazione più professionale e sono andata a Londra per diplomarmi con successo alla
Inchbald School of Design
. Oggi, a molti anni di distanza dai primi passi nel mondo dell'Interior Design, mi ritengo estremamente fortunata perché il mio lavoro è la mia vera passione.
The mood was of English or French country houses with a mix of antique-vintage furniture, objects, textiles and garden implements. We were the first in Milano to show and sell such a warm, innovating and relaxed style of decoration.
The concept was a huge success: I soon realized the need of a more professional basis to become an interior designer, so I moved to London where I enrolled at the Inchbald School of Design for an intensive course of home decor which I completed quite successfully.
Today, after many years in the decoration field I feel I am very lucky to have a job which is also my life passion.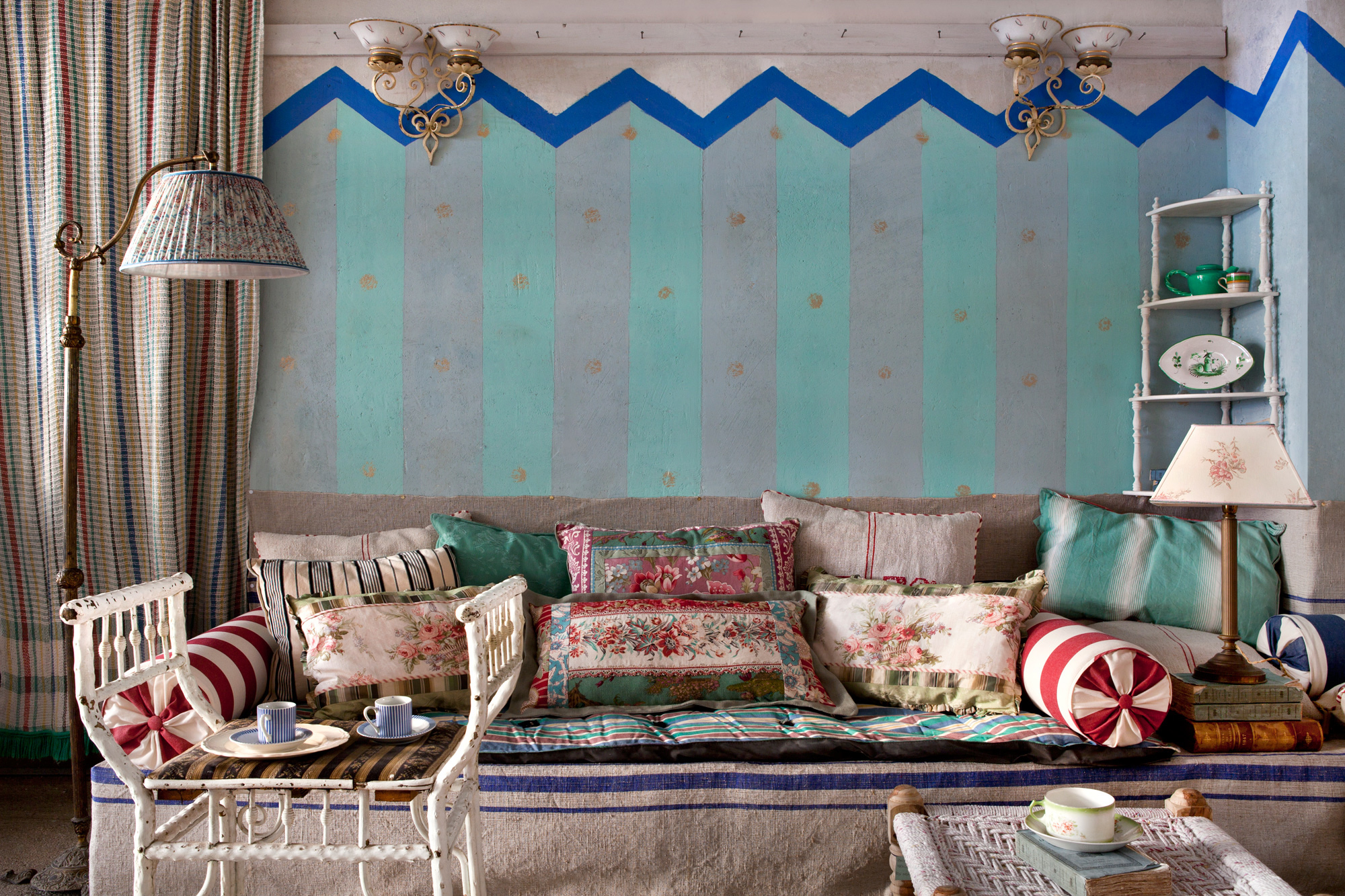 Dopo tanti anni di esperienza nel mondo dell'arredamento e dell'antiquariato, nasce sempre a Milano
Solamentegiovedì
all'interno di un cortile nascosto in zona Moscova. Il nuovo atelier è uno spazio dinamico, dal carattere decisamente creativo e non convenzionale, aperto il mercoledì e il giovedì. Il mio nuovo spazio è meno rigoroso e più flessibile di un vero negozio, gli allestimenti cambiano spesso, l'idea è di sorprendere i clienti accogliendoli in una casa.
Solamentegiovedì
è un luogo speciale, inaspettato, un indirizzo segreto di grande charme.
Solamentegiovedi is born out the many years of experience both in the antiques and the decoration business.
S.G. is situated in Milano in a hidden courtyard near the Arena and the Sempione Park. The new atelier is a dynamic, creative place; we are open to the public on Wednesday and Thursday and all week on appointement. Our space is more flexible then a real store, we change the setting rather often and we welcome our clients as in a real, friendly home.
S.G. is a special place, different, unexpected, a secret address of great charme.
Nel corso degli anni ho portato a termine numerosi progetti in Italia e all'estero ed ognuno di essi è stato un'avventura appassionante, cercando di interpretare sempre i desideri dei committenti, in molti casi diventati amici. Questo è un lavoro di squadra la nostra è un'equipe affiatata, insieme da tanti anni: falegname, pittore, tappezziere, decoratrici , restauratore, operiamo in maniera attenta con professionalità puntuale sempre in armonia e buon umore.
During the years I accomplished many projects , both in Italy and abroad , each of them has been an exciting adventure, always trying to interpret our clients wishes , who, in many cases, became longlasting friends.
Our clients are offered the service of my a team of a close-knit group of professionals: carpenter, painter, upholster, decorator, restorer, we have been working together since many years, we share the same views , we work with careful attention respect the deadlines, always in harmony with the client and in friendly mood.